72V 5A Ebike Smart Charger
This is the newest model of Ebike Charger 72V 5A for electric fat bike and electric enduro bike with a pretty good quality and performance.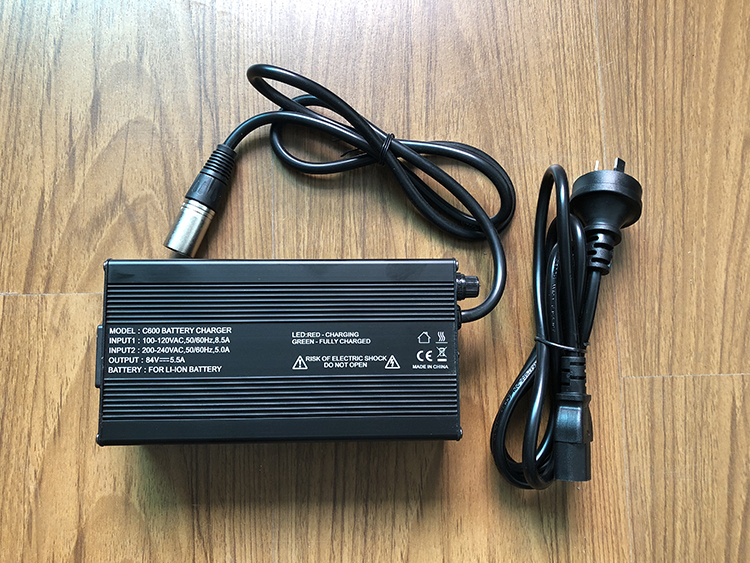 Main Features:
84V 5 Amps smart charger for li-ion battery, operates AC 100-240v 50/60Hz
The items of upgrading and improvement:
1. 40% smaller dimension (less transportation fee), easy for carrying of the consumers;
2. Eventhough we reduced 40% of the dimension, but thanks to our efficiency increased from 87% to 92%, the working temperature is 10℃ lower; with higher efficiency, it's better for environment and saving energy;
3. Add over-temperature protection, when environmental temperature is too hot (>40°), charger will stop working; if the temperature reduced, the charger will work again automaticlly;
4. Add timing protection, after 10h charging, if battery is still not full (perhaps battery has problem), the charger will stop working;
5. Add BMS protection, now all the chargers in the market has the inrush current once the charger connected to battery, the peak current can reach to 50-70A, and this huge current perhaps will damage the BMS (like the fuse), then the new charger have no this peak current because of new techology inside.
Different models of charger specification:
Model No.
48V 2A (NEW)

48V 2.5A

48V 4A (NEW)

Dimension
180*66*37 mm
195*80*46 mm
205*88*50 mm
Weight
425g
650g
950g
Cooling style
Fanless
Fanless
Fanless
Cell type
Li ion
Li ion
Li ion
Temperature rise
△T = 33°
△T = 33°
△T = 36°
Charging current
2A
2.5A
4A
Output voltage (Max.)
54.6±0.2V
54.6±0.2V
54.6±0.2V
Supply voltage
100-240V
100-240V
100-240V
Input frequency
50-60 Hz
50-60 Hz
50-60 Hz
Output power
90 W
140 W
270 W
Switch off current
170±70 mA
250±100 mA
300±100 mA
Effificiency
> 91%
> 87%
> 91%
Compatible Norms
EN 61000
IEC 60664
IEC 60335
EN 55014
EN 61000
IEC 60664
IEC 60335
EN 55014
EN 61000
IEC 60664
IEC 60335
EN 55014
Dielectric Strength
3.75KV
3.75KV
3.75KV
Ingress protection
IP54
IP54
IP54
Operation temperature
0 to 40°
0 to 40°
0 to 40°
Storage temperature
- 40 to 55°
- 40 to 55°
- 40 to 55°
Operation humidity
20% - 85%
20% - 85%
20% - 85%
Storage humidity
10% - 95%
10% - 95%
10% - 95%
RoHS 2.0
yes
yes
yes
Protections:
DC Inrush current protection
Over-current protection
Short-circuit protection
Anti-intrusion protection
Over-voltage protection
Anti-Reverse Protection
Timing protection (72V5A charger only)
Temperature protection (72V5A charger only)
Please leave us correct and exactly consignee, phone number and shipping address, so that we can send you the parcel in a right way. Thanks!