QS138 70H 72V 3000W Mid Drive Motor
QS138 70H V2 3000W mid drive motor used for electric light motorcycle get to 72V 100KPH with a pretty good quality and powerful performance.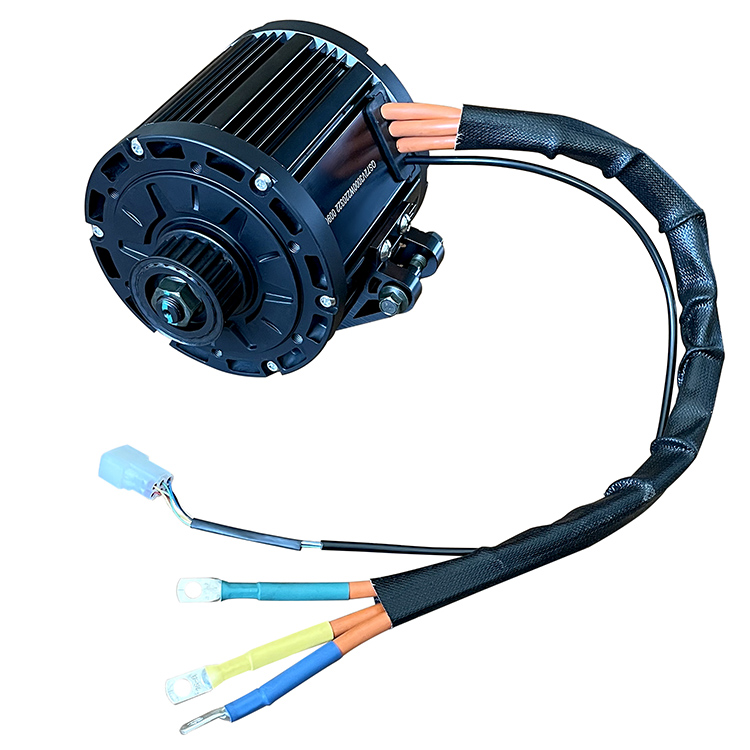 Key Features:
1) Light weight and small dimension compare to hub motor
2) High performance benefit from flux weakening
3) High efficiency during climbing, and better acceleration
4) Support regenerative braking

Specifications:
Motor Type: BLDC inner rotor motor
Motor Design: Single axle
Matched Tire: 12inch wheel and tire (as default)
Magnet Height: 70mm, 5 pole pairs
Dimension: Φ162x210mm
Rated Power: 6000W
Peak Power: 10000W
Rated Voltage: 72V
Speed: 3800RPM (basic RPM)
Flux Weakening: 6000RPM
Max Torque: 45-55N.m
Cooling Method: Air cooling
Max. Efficiency: 94%
Continuous Battery Current: 67A (72V)
Peak Battery Current: 140A (72V)
Thermic Probe: KTY83/122 (as default)
Working Temperature: 70-120°C, Max. 150°C
Hall Sensor: Single hall set with waterproof connectors
Phase Wire: 16mm² cross section (not include insulation layer)
Waterproof Grade: IP67
Color: Black
Net Weight / Gross Weight: 11.5kgs / 12.45kgs
Packing Carton Size: 34x34x33cm

Packing Items:
QS138 70H 72V 3000W Mid Drive Motor with sprocket design

Please leave us correct and exactly consignee, phone number and shipping address, so that we can send you the parcel in a right way. Thanks!