By ablebike |
02
November 2023 |
0
Comments
The Ultimate Enduro Bike Kit: 72V 6000W Ebike Conversion Kit
If you're looking for an electric bike kit with superior quality and powerful performance, then the 72V 6000W Ebike Conversion Kit is perfect for you. This incredible kit is ideal for electric bikes, electric fat bikes, and electric enduro bikes. With such high performance, riders can expect to achieve a top speed of up to 120km/h. Furthermore, its durable and powerful features are designed to provide an unforgettable riding experience on different terrain. So, if you're interested in upgrading your enduro bike, let's take a closer look at the incredible 72V 6000W Ebike Conversion Kit.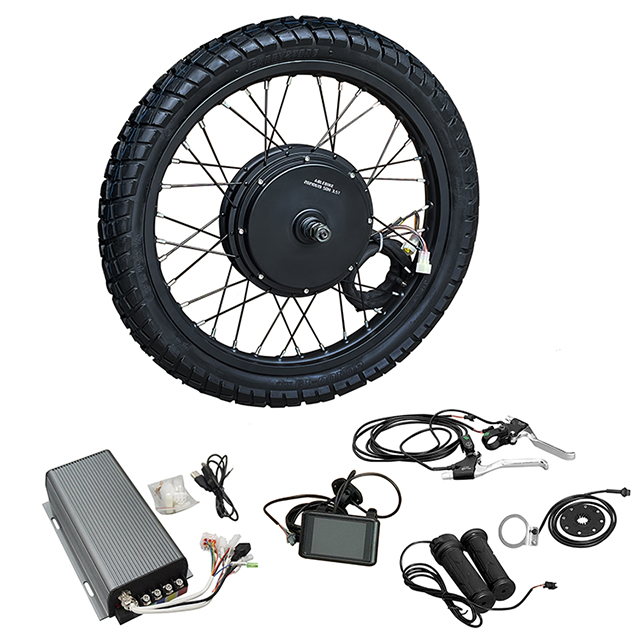 1. Powerful Motor: The 72V 6000W Ebike Conversion Kit is fitted with a powerful motor that is capable of handling the toughest terrains that come your way. The motor delivers 6000W of power, which translates to an incredible top speed of 120km/h. Furthermore, the motor is brushless, which means fewer maintenance issues, more efficiency, and longer lifespan.

2. Battery Life: The ebike conversion kit comes with a 72V 18Ah lithium-ion battery that delivers high performance, longer life, and improved safety levels. With this battery, riders can easily achieve a range of 80km on a single charge. Riders will also love that it has a smart BMS that protects against over-discharge, over-charge, and short circuits.

3. Reliable Brakes: Brakes are an essential component of any bike, more so when dealing with high speeds. Fortunately, the 72V 6000W Ebike Conversion Kit has got your back with its reliable E-brake system. The electric brake system is efficient, quick, and has a shorter braking distance. With this braking system, riders can ride with confidence knowing that they have reliable stopping power.

4. Durable Tires: The 72V 6000W Ebike Conversion Kit also features durable tires that are perfect for off-road riding. The tires are 26 inches and 4 inches wide, which means they can handle any terrain, including loose soil, sand, and snow. Furthermore, the tires have excellent grip, providing superior traction, which is essential when riding at high speeds.

5. Easy Installation: The 72V 6000W Ebike Conversion Kit is easy to install and can be done in a matter of hours. The kit comes with all the necessary components, including the motor, battery, controller, display, and cables. Riders can also rely on a detailed installation manual that comes with the kit to help with the installation process.

Conclusion: The 72V 6000W Ebike Conversion Kit is an excellent choice for enduro bike riders who are looking for superior quality, powerful performance, and durability. With the ability to reach speeds of up to 120km/h, riders can tackle different terrains with ease. The kit features a powerful brushless motor, a reliable e-brake system, and durable off-road tires. Additionally, the kit is easy to install and comes with all the necessary components, making it a hassle-free upgrade for anyone looking to enhance their enduro bike. To purchase this conversion kit, contact Ablebike via email at info@ablebike.com or call +86-177-51589985.
Leave a Reply
Your email address will not be published.Required fields are marked. *