By ablebike |
04
August 2023 |
0
Comments
Experience the Power of AbleBike – A 19/21" 72V 8000W Bike Full Parts
Bicycles have come a long way from being just a mode of transport, to a favorite pastime of enthusiasts worldwide. The latest invention, AbleBike – a 19/21" 72V 8000W Bike Full Parts by AbleBike has transformed biking and taken it to the next level. This cutting-edge bike is perfect for adrenaline junkies, bike lovers, and adventure seekers. The bike is built with the highest-quality material and is engineered for the toughest terrain to give the best performance.

Performance:
The AbleBike is unmatched when it comes to performance. Its powerful 8000W electric motor is coupled with a 72V lithium-ion battery pack that makes it one of the most efficient and resilient bikes on the market. You can expect a top speed of about 75 mph and a range of roughly 65 miles per full charge. The throttle response is quick, which enhances its take-off capability, and in seconds you'll be cruising at jaw-dropping speeds. This powerful bike can climb steep inclines with ease, making hiking trails, and rugged terrain, a breeze.

Design:
The design of the AbleBike is functional and sleek. The 19/21-inch dual-suspension frame made of top-quality material and complemented by hydraulic brakes provides you with great balance and stability when riding at high speeds. The 18-inch wide tire is versatile and perfect for off-road biking and any other outdoor activity. The bike comes in a stunning red-and-black finish that is sure to turn heads.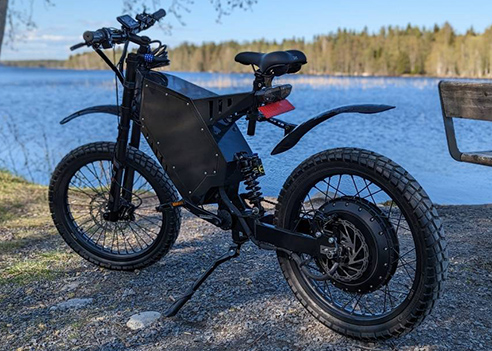 Full Parts:
The AbleBike is delivered with all parts included, meaning that the bike arrives ready to ride. This means less hassle for you and no need to worry about fitting the parts. The bike has a streamlined, clean appearance, and a quick assembly process. The parts come complete with the bike, so the process is hassle-free, and you'll be on the road in no time. The bike comes with a warranty, so you don't have to worry about replacing parts, and you can enjoy a worry-free ride.

Support:
At AbleBike, we pride ourselves on customer support and satisfaction. We offer both pre-sale and after-sale support, in case you have concerns or problems navigating the bike. We've also put together a comprehensive manual that guides riders on how to use the bike and how to make repairs or replacements on their own. This is a testament to our deep passion and commitment to making sure our customers get the full benefit of their AbleBike

If you're in the market for a high-performance, reliable and efficient e-bike, the AbleBike is the perfect choice. The bike is designed to handle the toughest of terrains and enhance your riding experience. We guarantee that the AbleBike will give you an exhilarating ride, first-rate performance, and an unforgettable adventure. Contact us today via info@ablebike.com or Tel.: +86 177-51589985 to order for your AbleBike. Experience the Power of AbleBike – A 19/21" 72V 8000W Bike Full Parts.
Leave a Reply
Your email address will not be published.Required fields are marked. *